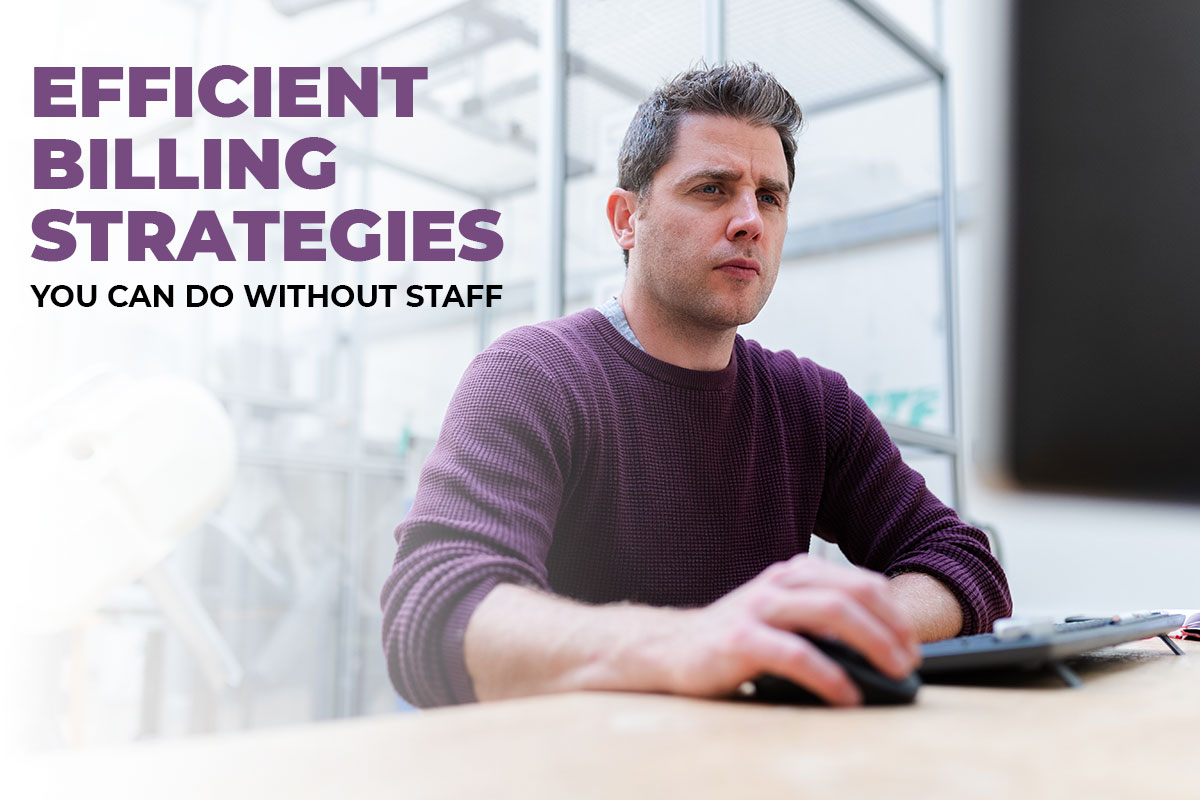 Chiropractors have admitted to being intimidated at the thought of running a Micropractice. How will I do it all without a staff? Billing? Scheduling? Not to worry! We have created proven procedures to help, especially in the name of billing. We provide an amazing service to our community – it's important we are properly paid. And as a Micropractice, it's important to make billing effective and efficient!
Goal Setting with Patients Eases Billing Hassles
Patient's clinical goals can be related to their billing in the office? Absolutely! One of the underlying keys to having an efficient Micropractice is establishing great patient relationships from the beginning. Your first couple of days with a patient set the stage for what the patients expect from you and vice versa.
Before we can get to the goal setting portion of the patient relationship, it's important to accept only patients you truly enjoy working with. A micropractice owner has the luxury of enjoying a ridiculously low overhead (yay!) which allows being more selective in which new patients to accept into the practice.
I know we don't want to associate patients as numbers, but let's be real. Your business overhead has to be covered each month. Our services bring in revenue to cover these costs, so naturally, we should count our patient visits. In my Micropractice, I only need to adjust 30 patients a month to cover my overhead which is very little. Knowing this, my process for accepting new patients is selective – I only want to work with patients I KNOW I will get great results with.
So now that we have a better flow of ideal new patients coming into the practice, your report of findings becomes the star of the show. When I present my ROFs in practice, I base them on all the steps I have covered on Day 1 with the patient:
What is their current health concern?
What are some other health challenges they are having?
What are their goals for the overall health and wellbeing?
When it comes time to preparing for the ROF, I take into account three factors:
The patient's current state of health (which was determined during the examination)
The patient's health and wellness goals
My chiropractic experience with other patients of similar complaints/conditions
When presented in this type of organized format, the patient is impressed with how thorough the findings are and are even more excited to begin care. Before treatment is administered, it's important to review the patient's specific plan of attack. How many visits, how often, over what course of time, and of course, how much will this cost them. Patients are so used to going to providers who charge as they go, it's refreshing to have the costs upfront. And most importantly, their financial responsibility is completely linked to THEIR goals, which makes the conversation easy and objective.
Creating Financial Care Plans
Financial care plans in chiropractic offices come with a bit of controversy. Some chiropractors feel they create too much of a "salesy" vibe in the office. I can completely see where these chiropractors are coming from. Presenting a care plan without confidence will absolutely come off as being salesy. Not creating and presenting financial care plans will clog the efficiency in a Micropractice. So where's the balance here?
It all comes down to the providers confidence in the care plan they have created. If you feel good about it, then there is no issue presenting it to the patient. The number one way to gain your confidence is by having the patient first accept the treatment plan. As we discussed above, your treatment plan is a product of:
The patient's current state of health (which was determined during the examination)
The patient's health and wellness goals
My chiropractic experience with other patients of similar complaints/conditions
So what you create will come from objective evidence and findings – no arguing with it at all.
The financial care plan should be created over a length of time. At a minimum, I suggest 3 months. Ideal timeframe would be 6 or 12 months, but that is an uncomfortable leap for most. Three months is a totally doable timeframe. For example, let's say your treatment plan is the following and, for illustration purposes only, your adjustment fee is $50:
2 times/week for a month (8 adjustments)
Weekly for 2 months (8 adjustments)
16 total adjustments/3 months
$800 total
Now, you have the ability to offer small discounts (doctor's choice!). Legally, make sure you are covering your bases with any insurance networks you are in and what the OIG allows for discounting. Over Discounting your services can get you in some trouble so please please please avoid this!
Having a financial care plan option should be unique to each patient versus a one size fits all. Many offices will use "blocks of care" packages, which I suggest moving away from. If your recommendations for the example patient above is 16 total adjustments, why only sell him 10 at a time? By selling only 10 adjustments at a time, this reduces the value of the original recommendations.
Another misconception of financial care plans is they are for a cash only practice. Not true at all. If you are a practice that accepts insurance, you can absolutely incorporate these benefits into the care plan. Not only will the patient appreciate factoring every aspect of their financial obligation into one area, but they will absolutely be more compliant with their treatment plan. You will have less and less of the common issue of insurance accepting providers – "once the insurance runs out, the patient does not' return".
Creating and presenting a care plan is the first step here…next up is to offer ways in which the patient can pay for their care. People love having options because they feel a part of the process with you, versus being told what to do. Collaboration is key! When it comes to patient's payment options, offer a number of options:
Monthly payments
Down payment and smaller monthly payments
Prepayment
Pay per visit
Out of these options listed above, my favorites are either #1 or #2. The others are fine…I prefer having an idea of what my future income will be based on expected recurring payments. Patients are also used to monthly payments in other avenues of their life – car payments, mortgage/rent, etc.
Although the effort of constructing and presenting a financial care plan takes time upfront, the time savings on the back end is well worth it! Once you have an established arrangement with the patient, you will be paid what you are owed, and patients will be happy to know their responsibility financially to you!
Storing Credit Cards On File
Creating care plans may take some chiropractors time to wrap their heads around. But storing credit cards on file is something ALL offices can begin to do ASAP. How you store these cards and how you process the cards are important to keep your office compliant and out of trouble.
If you have taken the plunge with financial care plans, then the patient's credit card should be directly connected to the agreed upon payment plan. If it's a one-time prepayment…super! You can process the payment upfront and the receipt of payment will be directly emailed to the patient (yay for no paper!). One the payment is processed, your system should automatically give you the option to store the card on file for future charges.
Let's talk about your system for storing cards on file. This must be an official system for credit card storage AND NOT the old school process of keeping credit card numbers in an Excel spreadsheet. Or worse yet…photocopies of patient's credit cards (yikes). Your system can be a web based system – totally fine. But it should not ever let you read back the entire card number – only the last four digits and expiration date. This is called credit card encryption and is a must for all merchants accepting credit cards. That's right…anyone. Health care offices are not exempt from these industry wide rules. Either we learn and follow them or run the risk of high fines in the future.
Back to practically applying this concept in practice. We've reviewed how to use the card with prepayment care plans. The same procedure applies to monthly payments, except your system should just give you another option to choose to run the card monthly. What's so nice here is these payments can run for you at any time instead of running payments on the 1st and 15th of the month (as many offices used to do). So if a patient's payment is scheduled to run on the 25nd of each month, amazing. If the 25th happens to land on a weekend or a holiday, the payment will still process. What's a very satisfying feeling is getting the email for my system that lets me know a payment has been automatically processed for me – yay! And this was all done for me, which ultimately saves me loads of time in my practice.
Another scenario for running payments in a practice are one-time payments for products or patients who pay-per-visit. Yes…I have pay-per-visit patients in my practice…we all do. The far majority are on plans, which as we have read, will have their payments already set up. For those who prefer to pay-per-visit, I establish the system upfront that I run their credit card on file for the services/products utilized within the month at the end of each month. This payment receipt is then automatically emailed to them and the ledger is kept in my system's billing history.
If this type of system didn't exist, then I would be running payments at the end of each visit, which takes a couple of minutes (let's say 2 minutes). Then let's say I have 20 visits that need to be charged per visit. Add up those totals and I'm spending 40 minutes running one time payments throughout the month. If you could group all of these payments in one time at the end of the month, you will significantly reduce the time you spend on this task. I spend about 10 minutes running one-time payments through my system at the end of each month. That's a way more efficient use of time versus the 40 total minutes throughout the month. Now you can use that extra time in your practice to focus on patient care and referrals to help grow your practice more and more!
Anticipating & Handling Billing Issues
My Micropractice's accounts receivables are zero. You read correctly…I don't have any balance on patient's ledgers. No one owes me money…ever. And that's how I've always run it with this practice. Now yes…I will have some gaps with Medicare payments coming in. But those payments are few and always pay exactly as they are supposed to.
Having a large accounts receivable is a common problem in a chiropractic practice. But as we have learned in this section on efficient billing procedures, if we establish a system upfront for organizing and setting up payments, there is no need to chase patients down to pay their bills. In fact, there is no longer a need to even send out paper/electronic bills anymore (I know…mind blowing!) Not only does this save on paper, but more importantly saves your time as a Micropractice owner. Win-win!
Just because a system and procedure has been perfectly laid out does not mean there aren't issues that arise. In my experience, it's best to anticipate the billing/collections issues versus just waiting for them to happen. Proactive versus reactive!
The problem with sending bills out to patients is that then you have to manage the payments and collections. Tracking all of that sounds like a headache for the one-person show. Plus, patients have the ability to say they lost the bill or just straight up don't want to pay the bill. Then what? Collections? Ugh…another headache on top of the first headache.
By taking the time with all new patients to explain what to expect with billing and collections in your practice, it will save you loads of heartache and wasted time in the future. In my experience, patients are happy to have a system in place and even happier to have their card held securely on file. Not one patient has ever barked at this procedure.
Even with all cards on file and a perfect explanation of the billing procedure, issues can still pop up. Not many, but some can:
Credit card number changed
Credit card expires
Credit card on file denied
How to best handle these issues? First off, it's important to say calm and give patients the benefit of the doubt. Many front desk staff jump to assumptions that the card was false or the number was changed on purpose – anything that puts the patient at fault.
In my experience, when you have a low overhead practice that doesn't rely on having a certain number of new patients, and can be more selective in who to accept as a patient, issues pertaining to billing are few and far between. These patients are more than happy to be in your practice, and typically more than happy to pay you.
When I run cards in my practice, I do get the occasional denial. The online credit card processing system I use will give me a code as to why the denial happened. Then I typically contact the patient and let them know what is going on. But even better, my system has already sent the patient an email reporting the credit card did not go through. So once they hear from me, they have already received correspondence. Usually, its a card that had to be replaced b/c it was stolen, which sadly happens to people more and more often. We simply update the information either over the phone or next time they are in the office and re-run the charges. Easy peasy.
Another common reason for the denial is exhausting the patient's FSA/HSA. Some of these accounts are tied to credit cards which look and act as typical credit cards. Instead, they will have limits to what can be used and once the limit is up, the card is denied. In these cases, I have patient who have secondary cards on file and I know to run those if their HSA/FSA have run out.
Credit card expiration dates are a final way cards can get denied. Again, my amazing online system comes to the rescue! Even prior to the card expiring, the system will send an alert to both me and the patient, letting us know the card is about to expire. Again, we handle over the phone or the next time the patient is in the office and all is well!
Collecting money into any business is the life of the business. We need to be paid for our services to keep our businesses going. So best to make the systems and procedures surrounding billing and collections work smoothly and efficiently for your practice!